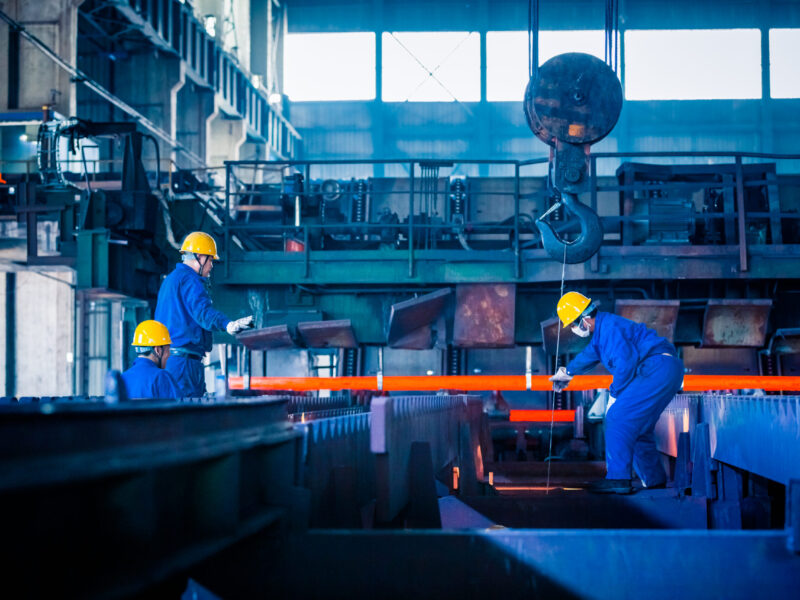 What is an Ironworker machine ?
Ironworker performs multiple tasks like shearing, cutting, bending, and punching. The design of this machines is user-friendly and has low maintenance costs. There are two types of ironworker machines: Hydraulic ironworker machines, and Mechanical ironworker machines.
Most modern ironworkers are single or dual-operator machines that are equipped with various controllers to enable some level of automation, despite the fact that they are typically fully manual devices.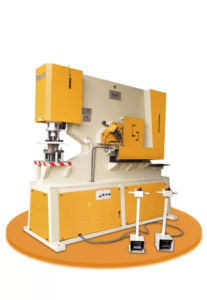 Ironworker has a reasonable structure, is lightweight, low noise, reliable, and has overload performance.
They are simple in operation.
Used to cut large amounts of metal in factories.
Due to their multipurpose functioning, iron workers are cost-effective.
The setup of this machine is easy and quick.
It is applied to notch steel and iron.
Application of an ironworker machine.
As we said, ironworkers perform different tasks; we can see that in brief.
Punching is the process of creating a hole in a material with a hard punch. Generally, punched holes are round, but they can be square, oblong, and custom shaped depending on the punch shape. Punching comprises three elements: Punch, stripper, and die.
Plate shearing is an essential feature of an ironworker. Plate shearing is also included in cutting sheet metal machines in a straight line.
The Hydraulic Ironworker helps perfect shearing at any angle depending on the user's needs.
This machine supports bar shearing, allowing the user to start the unit and place the material to be sheared on the feed table. A shear blade is a tool that an ironworker uses to cut a metal sheet or plate to any required shape.
Notching is a process that takes pieces of metals and removes them when needed. They can be used to pass through another tight metal. This process is called coping when it contains tubes. While several machines are made specifically for this operation, ironworkers and others offer the advantages of carrying out this task.
Structure of an ironworker machine.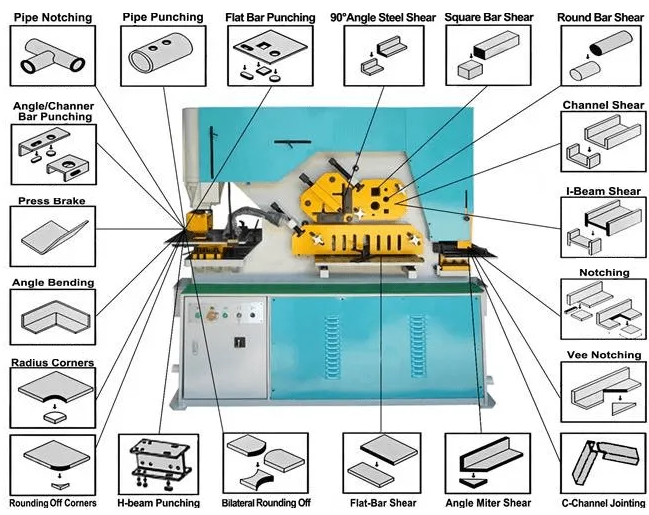 Working of an ironworker machine.
Check to see if the punching & shearing machine's transmission components, connecting screws, and pins are loose.
Before working, lubricate all of the components, and begin a test run.
Only when there is no vibration, aberrant noise, or obstruction during empty operation can the feeding mechanism begin.
Every component of the machinery must fall within the permitted scope.
It's forbidden to overload.
It must be manually turned to fix the upper and lower die models, and only when there is no obstruction can the machine tool be started.
Only after the punch handle is in the neutral position may the punch and missing disc be replaced.
When working, put on gloves and labor protection gear.
When feeding the substance, be mindful of your fingers' safety.
Shut down and turn off the power when the work is over so that you have time to clean up the area.