RAJESH group of companies is an emerging global leader in the sheet metal machinery sector. We ensure you provide the best range of Power press machines that will need minimum maintenance and less electricity. We are one of the major manufacturers of high-quality power presses machines. Our highly experienced staff is engaged in the development and manufacturing of power press machines.
A power press machine is basically a hydraulic machine that is used to cut, shape, and squeeze different types of metal sheets into the desired shapes. A power press is a miscellaneous machine that gives shape to metal sheets to achieve the required form of the components.
We are one of the top manufacturers of the best power press machines that are used in assembling businesses because of their metal bowing effectiveness. It is used in businesses like car and bike designing, electric appliances, the vehicle industry, and in many other places. Feel free to contact us for more information.
Types of Power press machine
There are six types of power press machines to satisfy specific requirements. They are as follows:
The frame in this power press machine is C-shaped, therefore it is called a C-frame power press. C-frame press machine is usually used for small presses like 10 ton power press machine, 20 ton power press machine, 50 ton power press machine, 250 ton power press machine. It is used to operate different functions with ram, plate, bed, and bolster. C type power press machines are used for bulk production of ductile metals like mild steel. The knockout mechanism of the c-frame power press is used to detach the finished workpiece. The c-type power press machine is plotted to provide continuous production with high accuracy.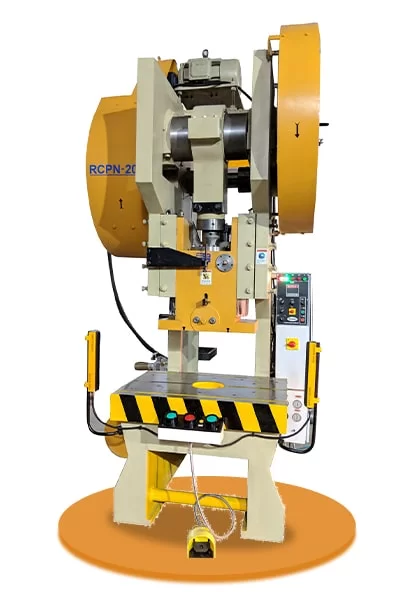 C – Frame Pneumatic presses are heavy-duty and silent so that the operator can operate them smoothly. There is a huge demand for C-Type pneumatic presses in the aeronautical, automobile, and spacecraft industries. Generally, these types of power press machines are used in cutting, punching, bending, and many more.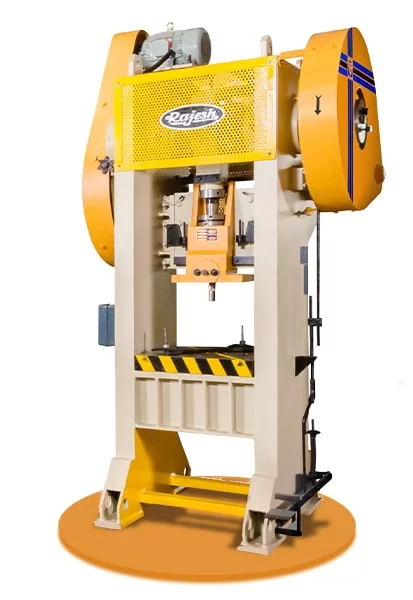 The H – Frame (Pillar) Power Press provides products that possess longer life, high efficiency, less maintenance, toughness, high performance, and high durability. H – Frame Power Press is made from solid steel with suitable cross ribbing. The alignment of the Table and Ram gives very high quality and accurate operations.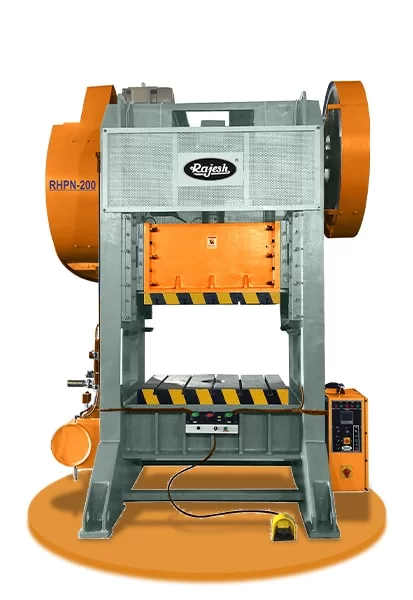 H – Frame (Pillar) Pneumatic Press is assembled from IS-2062 graded rolled steel plates. Frame in this machine is deeply substantiating and fines machines after stress reliving. The accuracy of the machine is never interrupted because the frame is hassle-free and abolishes welds at load supports.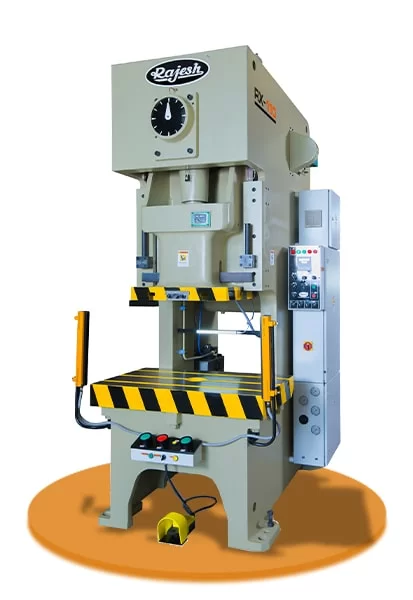 Cross-Shaft Precision Press is a commodious model designed for different kinds of applications for easy handling of material to allow a person to operate the machine. To increase production, automation is also provided. This machine requires low cost because the material itself falls down with gravity so components are easy to handle.
Single Crank Double Point Pneumatic Press is a highly accurate geared machine that provides very smooth and noiseless operation. There is a high-quality crankshaft to maintain the accuracy of the machine and increase its life.