A laser is utilized in the technique of laser cutting, which may be used for both practical and more creative purposes like etching. Metals, paper, wood, and acrylics all can be cut with a laser using a highly focused, consistent beam of light as the cutting medium. Laser-cutting technologies are used in a diverse range of sectors, including aerospace and automotive applications, as well as hazardous settings.
Laser cutting is a non-contact procedure that eliminates physical touch with the material being cut. It can mould hard, high-strength materials like refractory ceramics and diamond tools. Laser procedures offer high levels of precision and accuracy with minimal tolerance for human mistakes, resulting in reduced waste, lower energy consumption, and, as a result, cheaper costs.
RAJESH group of companies provides you with the best range of High-quality Laser machines. We have a team of experts that are well-qualified and experienced professionals. If you have any other questions or queries regarding Laser machines then feel free to contact us.
There are two types of Laser machines manufactured by the Rajesh Group to satisfy specific requirements. They are as follows:
1. CNC fiber laser smart series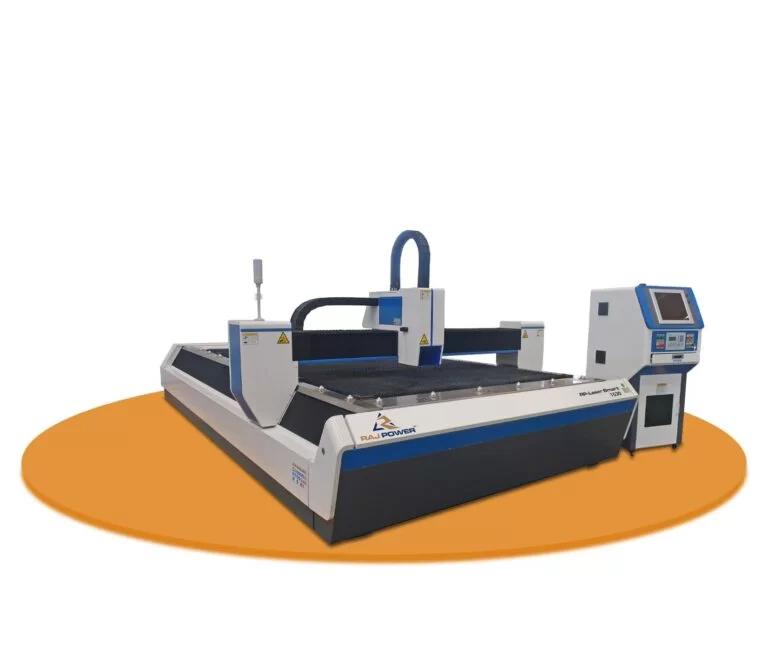 Metallic sheets are routinely cut using Computer Numerically Controlled (CNC) fiber laser smart series, regardless of whether they are formed of an alloy of aluminum, tempered steel, pure steel, titanium, or another metal. You should carefully select a CNC fiber laser smart series machine based on the materials you intend to cut and the nature of your procedure. The fiber laser is extremely dependable and of the greatest quality, producing incredible results and high-accuracy cuts. It also makes use of cutting-edge profile and tube processing technologies.
2. CNC Fiber Laser Genius Series
The Genius Series Laser Cutting Machine is the newest in a long line of laser cutting machines. The Genius KJG series is outfitted with cutting-edge technology and features. This series incorporates cutting-edge fiber laser technology that is quick, dependable, adaptable, and low-cost. It is especially well-suited for cutting thin materials while also actively operating on ferrous and non-ferrous materials.