Cybtouch 8P Controller
NC Servo Back Gauge
Standard Tooling Set (V-Block & Punch)
Hydraulic & Electrical overload protection
Powered Depth Y-axis & Back gauge X-axis
R & Z Axis (Manual Operated)
Taiwan Made Ball screws & Polished rod with 0.05 mm accuracy
Emergency Stop Push Button Movable Foot Switch
Front Sheet Support
Self-Lubrication System
Operation & Maintenance Manual Book
Manual Crowning System
DSP Optical Safety Guard
Optimising Perfomance with Special Services
Discover how we're improving quality of Industries
GET IN TOUCH
Got any Questions?
Call us Today!
+91-9081888936 response@rajeshpower
pressindia.com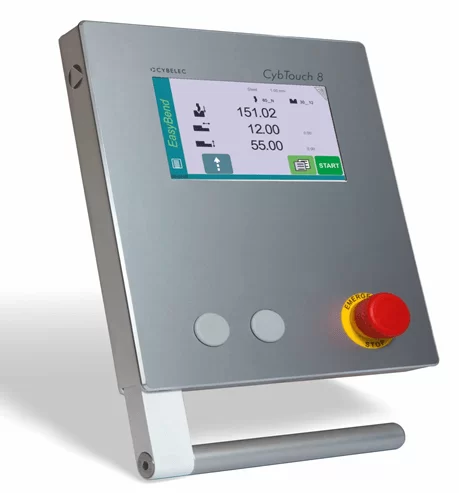 1. Easy Operating
7″ Color graphic CRT screen, with LED
backlight control.
Intuitive user-friendly interface.
Simple pages, clear display, large keys.
Large, vivid, and high-contrast fully
touchscreen.
Complete programming for efficient mass
production with multiple bends.
Easy single bends with EasyBend page.
On-line help and interactive warning popups.
Comfortable wireless data backup and
software updating using PC or Notebook.
A large variety of languages is available.
2. Better Bending
Various automatic calculations of bend functions.
Bending sequences and programs can be memorized.
Angle, pressure, and crowning management.
Easy manual movement.
Offline 2D software is available.
3. Powerful
Control 3 axes (with optional 4th axis)
2D graphic profile creation with manual sequencing (option).
Bend allowance calculation.
Pressure-crowning calculation.
Modular tools for each part or bend.
Angle and back gauge correction.
Tele maintenance via wireless connection with PC or notebook.
USB port for memory stick for data transfer/backup.
| Model No. | Bending Capacity | Bending Length | Distance Between column | Depth of Throat | Slide Stroke | Stroke Adjustment | Shut Height | Stroke Per Minute | Main Motor Power | Net Weight | Packing Dimension (Length x width x Height) |
| --- | --- | --- | --- | --- | --- | --- | --- | --- | --- | --- | --- |
| RP-Bend NC 40T/1600 | 40 | 1600 | 1250 | 230 | 100 | 80 | 320 | ≥ 11 | 5.5 | 3000 | 2100 x 1250 x 2050 |
| RP-Bend NC 40T/2500 | 40 | 2500 | 1850 | 230 | 100 | 80 | 320 | ≥ 11 | 5.5 | 3000 | 2500 x 1200 x 1910 |
| RP-Bend NC 50T/2500 | 50 | 2500 | 2000 | 230 | 100 | 80 | 320 | ≥ 11 | 5.5 | 3600 | 3150 x 1350 x 2240 |
| RP-Bend NC 63T/2500 | 63 | 2500 | 1900 | 250 | 100 | 80 | 320 | ≥ 10 | 5.5 | 4100 | 2850 x 1890 x 2150 |
| RP-Bend NC 63T/3200 | 63 | 3200 | 2560 | 250 | 100 | 80 | 320 | ≥ 10 | 5.5 | 4800 | 3200 x 1300x 2210 |
| RP-Bend NC 80T/2500 | 80 | 2500 | 1900 | 320 | 100 | 80 | 360 | ≥ 10 | 7.5 | 4800 | 3180 x 1750 x 2350 |
| RP-Bend NC 80T/3200 | 80 | 3200 | 2600 | 320 | 100 | 80 | 360 | ≥ 10 | 7.5 | 5580 | 3820 x 1700 x 2350 |
| RP-Bend NC 80T/4000 | 80 | 4000 | 3350 | 320 | 100 | 80 | 360 | ≥ 10 | 7.5 | 6120 | 4350 x 1700 x 2400 |
| RP-Bend NC 100T/2500 | 100 | 2500 | 1850 | 320 | 120 | 100 | 390 | ≥ 10 | 7.5 | 5850 | 2850 x 1750 x 2360 |
| RP-Bend NC 100T/3200 | 100 | 3200 | 2550 | 320 | 120 | 100 | 390 | ≥ 10 | 7.5 | 6500 | 3790 x 1700 x 2350 |
| RP-Bend NC 100T/4000 | 100 | 4000 | 3350 | 320 | 120 | 100 | 390 | ≥ 10 | 7.5 | 7800 | 4590 x 1745 x 2450 |
| RP-Bend NC 125T/2500 | 125 | 2500 | 1850 | 320 | 130 | 130 | 390 | ≥ 10 | 11 | 6100 | 3190 x 1945 x 2420 |
| RP-Bend NC 125T/3200 | 125 | 3200 | 2550 | 320 | 130 | 130 | 390 | ≥ 10 | 11 | 7300 | 3790 x 1935 x 2420 |
| RP-Bend NC 125T/4000 | 125 | 4000 | 3000 | 320 | 120/150 | 130 | 370/400 | ≥ 10 | 11 | 8800 | 4000 x 1600 x 2700 |
| RP-Bend NC 160T/2500 | 160 | 2500 | 1950 | 330 | 200 | 200 | 465 | ≥ 6 | 11 | 8900 | 3300 x 2225 x 2560 |
| RP-Bend NC 160T/3200 | 160 | 3200 | 2540 | 330 | 200 | 200 | 465 | ≥ 6 | 11 | 9720 | 4100 x 2250 x 2560 |
| RP-Bend NC 160T/4000 | 160 | 4000 | 3140 | 330 | 200 | 200 | 465 | ≥ 6 | 11 | 11160 | 4800 x 2250 x 2560 |
| RP-Bend NC 160T/5000 | 160 | 5000 | 4000 | 320 | 200 | 200 | 460 | ≥ 6 | 11 | 14000 | 5000 x 1900 x 3100 |
| RP-Bend NC 160T/6000 | 160 | 6000 | 4800 | 330 | 200 | 200 | 465 | ≥ 6 | 11 | 18600 | 6400 x 2250 x 2960 |
| RP-Bend NC 200T/2500 | 200 | 2500 | 2050 | 320 | 200 | 200 | 460 | ≥ 3 | 15 | 10250 | 2650 x 1900 x 3200 |
| RP-Bend NC 200T/3200 | 200 | 3200 | 2550 | 350 | 230 | 200 | 515 | ≥ 3 | 15 | 12500 | 3750 x 2180 x 2950 |
| RP-Bend NC 200T/4000 | 200 | 4000 | 3260 | 350 | 200 | 200 | 515 | ≥ 3 | 15 | 14300 | 4450 x 2180 x 3000 |
| RP-Bend NC 200T/5000 | 200 | 5000 | 4000 | 320 | 200 | 200 | 460 | ≥ 3 | 15 | 14500 | 5000 x 1950 x 3100 |
| RP-Bend NC 200T/6000 | 200 | 6000 | 4800 | 350 | 200 | 200 | 515 | ≥ 3 | 15 | 21300 | 6420 x 2180 x 2900 |
| RP-Bend NC 250T/2500 | 250 | 3200 | 2500 | 400 | 250 | 250 | 590 | ≥ 3 | 18.5 | 19000 | 3250 x 2000 x 3200 |
| RP-Bend NC 250T/3200 | 250 | 3200 | 2540 | 400 | 250 | 250 | 535 | ≥ 3 | 18.5 | 13900 | 3840 x 2250 x 2920 |
| RP-Bend NC 250T/4000 | 250 | 4000 | 3000 | 400 | 250 | 250 | 590 | ≥ 3 | 18.5 | 20200 | 4000 x 2000 x 3400 |
| RP-Bend NC 250T/5000 | 250 | 5000 | 4000 | 400 | 250 | 250 | 535 | ≥ 3 | 18.5 | 17100 | 5640 x 2250 x 2980 |
| RP-Bend NC 250T/6000 | 250 | 6000 | 5000 | 400 | 250 | 250 | 500 | ≥ 3 | 18.5 | 18600 | 6420 x 2250 x 2980 |
| RP-Bend NC 300T/3200 | 300 | 3200 | 2530 | 400 | 250 | 250 | 590 | ≥ 3 | 22 | 20500 | 3840 x 2000 x 3450 |
| RP-Bend NC 300T/4000 | 300 | 4000 | 2900 | 400 | 250 | 250 | 535 | ≥ 3 | 22 | 24400 | 4000 x 2250 x 3115 |
| RP-Bend NC 300T/5000 | 300 | 5000 | 3900 | 400 | 250 | 250 | 535 | ≥ 3 | 22 | 27100 | 5400 x 2250 x 3115 |
| RP-Bend NC 300T/6000 | 300 | 6000 | 4900 | 400 | 250 | 250 | 535 | ≥ 3 | 22 | 29100 | 6400 x 2250 x 3520 |
| RP-Bend NC 400T/3200 | 400 | 3200 | 2530 | 400 | 320 | 220 | 600 | ≥ 2.5 | 37 | 24500 | 3840 x 2250 x 3450 |
| RP-Bend NC 400T/4000 | 400 | 4000 | 3140 | 400 | 320 | 220 | 600 | ≥ 2.5 | 37 | 30100 | 4800 x 2625 x 3700 |
| RP-Bend NC 400T/6000 | 400 | 6000 | 5000 | 400 | 320 | 220 | 600 | ≥ 2.5 | 37 | 41100 | 6800 x 2650 x 3900 |
| RP-Bend NC 500T/4000 | 500 | 4000 | 3050 | 400 | 320 | 220 | 630 | ≥ 2.5 | 37 | 42000 | 4200 x 4500 x 4760 |
| RP-Bend NC 500T/6000 | 500 | 6000 | 4760 | 400 | 320 | 220 | 630 | ≥ 2.5 | 37 | 47600 | 6200 x 4500 x 4760 |
*All dimensions are in mm